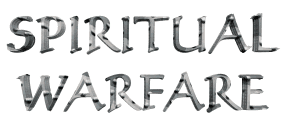 For the weapons of our warfare are not carnal, but mighty through God to the pulling down of strong holds;
2 Cor. 10:4
 

WHEN THE DEVIL ATTACKS…WHAT DO YOU DO ?

 
 

ARE YOU A SPIRITUAL POW ?

 
 

THE ENEMY WITHIN !

 
 

ARE YOU UNDER THE INFLUENCE ?

 
 

THE GREAT DANGER THAT IS CLOSER THAN YOU MIGHT THINK !